Arthroscopic ACL Reconstruction
Share your reports for a FREE expert consultation on
Arthroscopic ACL Reconstruction: Regain Knee Stability & Strength
Call/ WhatsApp (+91) 885137 6606
Call/ WhatsApp (+91) 885137 6606
Consult
Dr Yugal Karkhur

for ACL Surgery in Gurgaon
or an online consultation
Dr Yugal Karkhur boasts over a decade of expertise in Orthopaedics & joint replacement surgery. A graduate of the esteemed Maulana Azad Medical College, New Delhi, he served as a Senior Registrar at notable hospitals like Lok Nayak Hospital and Sushruta Trauma Centre, managing complex trauma and bone conditions. Currently, Dr Yugal holds the position of Senior Consultant in Orthopaedics and Joint Replacement at Narayana Superspeciality Hospital, Gurugram.  His dedication lies in addressing knee and hip ailments, having obtained a Fellowship in joint replacement and Adult hip preservation surgery from Missouri Orthopaedic Institute, USA. Furthering his knowledge, Dr Yugal trained in arthroscopic surgeries at Safdarjung Hospital's Sports Injury Center and concluded his Clinical Fellowship at Max Smart Superspeciality Hospital, New Delhi. He has been a notable figure in Gurgaon's healthcare scene for three years, affiliating with institutions Narayana Superspeciality Hospital, Gurugram. As the co-founder of Orthocure Surgery+ at Orthocure Clinics Pvt Ltd, he's pioneering a tech-integrated approach to Orthopaedic care. Academically inclined, he published 17 Research Papers in renowned journals and was honoured with the Young Ambassador Award by the Asia Pacific Orthopaedic Association 2016.
What is Arthroscopic ACL Reconstruction?
Arthroscopic ACL Reconstruction is a minimally invasive surgical procedure aimed at repairing a torn Anterior Cruciate Ligament (ACL), a pivotal knee joint structure connecting the leg bone to the thigh bone. This surgery uses arthroscopic techniques to ensure a quicker recovery with reduced post-operative complications.
ACL signifies the Anterior Cruciate Ligament.
It acts as a bridge linking the leg bone to the thigh bone.
Injuries to the ACL often result from sports activities or accidents.
These injuries can manifest as partial or complete tears.
A complete ACL tear is more severe than a partial tear.
Post-injury symptoms include sharp pain, inflammation, and long-term knee instability.
Source:- stgeorgesurgical.com
Hear Dr. Yugal speak about ACL Surgery
Watch Dr Yugal's informative Reel Content
Commonly asked Questions Before Arthroscopic ACL Reconstruction?

Can I do physiotherapy to avoid surgery?
Does my condition really need surgery?

Does it take months to recover after surgery?
Will I be able to return back to sports?
Will my knee become weaker after surgery?
Does the surgery involve large cuts and blood loss?
Have you been recommended to go in for Arthroscopic ACL Reconstruction?
Send your Reports for a FREE Expert Consultation
Source:- uthealthaustin.org
When would you be recommended ACL Surgery?
ACL Surgery is generally advised when the injury hampers daily activities or is a threat to long-term joint health, especially for individuals involved in active sports or physically demanding occupations. It's essential to consult a specialist to evaluate the extent of the injury and the need for surgical intervention.
Persistent pain and inflammation post-injury.
A feeling of knee instability during movement.
An ACL tear resulting from twisting or side impact.
The injury restricts normal day-to-day activities.
Advantages Of Arthroscopic ACL Reconstruction

A minimally invasive surgical experience
A faster recovery process

Negligible infection chances
Quick and effective return to daily life activities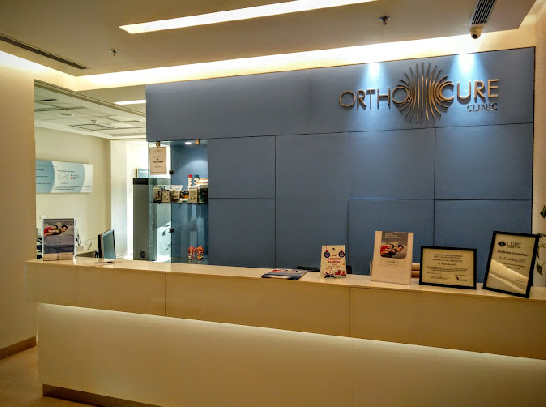 Carving a distinct niche in the Indian medical landscape, Orthocure Healthcare emerges as the nation's foremost chain of clinics dedicated exclusively to orthopaedic challenges. With an ethos grounded in excellence, Orthocure amalgamates the finest of Indian medical expertise with global collaborative insights, crafting what they proudly term "Centres of Excellence" in orthopaedic care. For those entrusting their orthopaedic concerns to Orthocure, this translates to avant-garde treatments, underscored by globally benchmarked best practices. Their commitment to advancing orthopaedic solutions ensures that patients always receive comprehensive, state-of-the-art care tailored to their unique needs.
Narayana Superspeciality Hospital
Narayana Superspeciality Hospital stands as an epitome of medical excellence in Orthopaedics and beyond. Reflecting world-class quality, it ardently meets both national and international healthcare benchmarks. The hospital's dedication extends beyond providing high-standard medical care—emphasising an unparalleled patient experience. Narayana guarantees an avant-garde approach to orthopaedic ailments with its state-of-the-art infrastructure, including cutting-edge Operation Theatres and Digital X-Ray facilities. Complementing this ethos is their team of distinguished superspecialists, allied with a compassionate nursing cadre, ensuring every patient receives an accurate diagnosis and exemplary medical care.